What is a good web host for WordPress?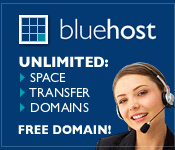 You are building your first WordPress sites, and really starting to enjoy it. You want to build more sites, and continue to make them better over the time. Sooner or later you will come to the question, what is a good web host for WordPress? I recommend Bluehost, because they have a very good price/quality ratio. The things a web host has to  has to support for being good is the following:
It should be a Linux server.
It needs to support PHP version 4.3 or greater. For WordPress 3.x you will need PHP 5, so that's the new minimum.
It needs MySQL 4.1.2 or greater
It should run Apache
It needs the mod_rewrite Apache module (For Clean URL:s).
You should be able to register new domains straight from the dashboard.
It should support auto-installing WordPress from the dashboard. That will save you time when you start to make a lot of WordPress pages.
It should be able to have different WordPress websites in different folders in your web space, and you should be able to automatically install WordPress into as many sub-folders you want, all from the daschboard, with no coding or file transfers. This will speed up the time of making new WordPress sites a lot when you have a few. (or just two).
It should be safe and have a high up-time.
It should respond quite fast.
A great customer service is good if you ever have any problems.
The price / quality relation should be the best possible.
This website and a lot of others are hosted on Bluehost. They fulfilled all of the requirements and more as well. I really recommen Bluehost. It costs 6,95 a month, and you can put almost as many sites as you can on their server without paying more!
So how to register for a good web host for WordPress?
You just go to The front page, you sign up for the account, you chose a domain name, you choose the billing period, (1 year for example), you pay for the hosting, and log in to the dashboard, or control panel. You scroll down to the area where you find "simple scripts" and you click "WordPress". Then WordPress will be installed automatically to your chosen domain, and you can start creating content right away!
And when you want to make another WordPress site, you just log int to the control panel, click on "domain manager" and chose a new domain. (domains costs 10$ a year). Then you go to simple scripts again, and let's that install WordPress on the new domain. Now you have TWO WordPress sites on the same server! Repeat this process and make as many WordPress, Drupal, or Joomla sites you want, everything from the simple scripts on the control panel! And you do not need to pay for any more hosting, you can add as many new sites you want to the 6,95$ hosting you bought in the beginning! The first domain you chose will be a "primary domain", but that does not affect the other sites at all. You only need to chose one the first time that will be called primary.
So good luck, and start to make a lot of great WordPress sites already today!
Click here to go to the Bluehost frontpage, and continue with signing up!