Review of Traction theme for wordpress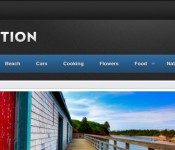 Traction
is a really flexible and visually attractive theme. It works good for
corporate use
, for
blogging
, for
product presentation
sites and for
internetmarketers
. There is both a
free version
and a
paid version
of Traction. Maybe you could start with the free version, but I strongly recommend that you pick the paid version. Then you have the possibility to chose color schemas, you can easily change the three pictures flashing on the top of the front page, there is more sidebar and ad-options and you get support if you need any. Basically, if you want to, you could do almost the same with the free version, but that requires a lot of coding, propably costing you much more in time then the paid version would cost you in money. Your blog or website gets a
fresh and clean
appearance with this theme, and the best thing, I think, is the following: If you just have a little content, this theme still makes your website look like a big expensive one. And, if you have a lot of content, with this theme your site will still be very easy to navigate. It has both a meny for categories, and one for pages, it has four widget areas and differenth frontside look than the other pages. The Traction template is very well search engine optimized, with differenth heading one on every page, and not the sitename as heading one on any other page than the front page.  Click here for getting to the site where you can get the Traction theme.
Those who are new to WordPress, this theme needs no previous knowledge at all (if you get the paid version).
Small companies that wants a very cheap website that still looks professional. A website with the traction theme makes your company look big and fancy.
Bloggers that wants a theme that is both search engine optimized and nice-looking. Themes usually just fulfill one of these criterias.
The more experienced wordpress users that has got enough of the free themes that promise a lot but does not do anything without you tweaking it and recoding it and wasting a lot of valuable time.
Internetmarketers that wants one theme that they can use on sites in many different niches, by changing images in the big picture area on the frontpage, this  theme looks good in almost every niche.
Plugins I like to activate on pages with this theme:
Headspace 2: For making your own titles and descriptions for improving the search engine optimization for your page.
Wp title 2: For people that uses the theme on a website, not just for blogging. This lets you have different meny-links and page headings for every page on your site. Actually, it works for posts also.
Google XML sitemap. I always install this one. It fastens the site's indexation in Google. In addition to this one, you should also make an own sitemap fro your wordpress blog.
You can of course activate all the plugins you want for your wordpress installation, or just go without plugins. The Traction theme works for almost every purpose that you can use wordpress. (that's a lot). For example, this site, professionalwpthemes is built on the traction theme. The customization of the theme just took me a few minutes from the built-in controlpanel that comes with Traction. Traction Theme is built by The Theme Foundry.  Click here for getting to the site where you can buy the Traction theme.