Guide for installing wordpress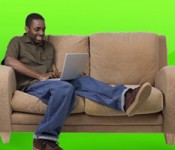 WordPress is the most used blog-platform when using your own domain. And that is because it is simply the best. It is also very easy to install and use. Here are the installation steps that you need to do for getting an own fantastic WordPress blog.
A lot of webhotels offer you the possibility to directly install WordPress through their admin panel. If your webhotel do that, you can skip points one to five. Otherwise, follow the checklist for getting a successful wordpress installation made.
Checklist:
Create a database using the control panel on your webhotel. Write down the database name, user and password. You need nothing else.
Configure the file wp-config.php that is in your WordPress folder. In this file, fill in the database name, user, and password that you just created.
Upload everything to the server by using a FTP program (filezilla for example). Uppload the content of the wordpress folder, not the folder itself.
Install wordpress by going to yoursite.com with your browser. The wordpress 5 minute installation starts. It actually takes only a half minute.
Go to your FTP-program, set the folder named "uploads" in wp-contents to 666 permissions. (In Filezilla, right-click the folder and then click on Permissions). Create the folder if it does not exist.
Go to permalinks in the admin panel under the tab Settings, and change to custom permalink structure. Write /%postname% in the field and save. This step is not necessary, but will give your blog much nicer URL:s. If you get a message that tells you to insert some code in the .htaccess file, copy the codes, create a empty textfile, save it, upload it to the root of your server, and rename it to .htaccess. Now your clean URLS should work.
Install your template. Either you have a premium template, a free WordPress theme, or a template that you made yourself.
Install the plugins you need, I suggest exclude pages, Headspace 2 or All in one SEO pack, and wp title 2. Some things that these plugins do can be done by some premium templates also, so in that case you do not need to install them. More about plugins here.