Customizing permalinks for WordPress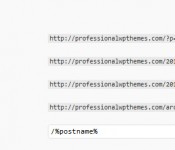 I am going to write a couple of articles abot making your wordpress theme and installation more search engine friendly. In this first post I will talk about the URL of the site, the part that you see in your browsers adress-field. By default, wordpress presents your posts with URL:s containing question marks (?) and numbers, and that is not user friendly, neither search engine friendly.
Here is no difference if you have a paid or premium theme, a free theme, or a theme that you have made yourself, the permalink-structure has to be fixed anyway.
Fix the permalinks
This is a easy step, and a very important one. This step does not belong to the theme, but it is so important so i had to mention it. Log in to the administration-interface of your blog, click on Settings down in the left corner. Then click on "Permalinks". In the view that now appear you see a list of settings for your permalinks. The first one is checked by default. That makes the URL of your blog posts look ugly, like this professionalwthemes.com/?p=123. This does not tell the visitor or the search engine anything about what they can find on the site. Instead you should activate the last one, the Custom structure. In this field you can decide yourself how the URL should look. Paste or write /%postname% in that field.
This will take the name of your posts and automatically make an URL of that. So if you write a post about permalinks for wordpress, the blog url will automatically become yoursite.com/permalinks-for-wordpress.

If you want another url, just click the edit-button that you see in the picture above. Then you can write your own url for that specific article, post, or page. Now you automatically tells Google, Yahoo, Bing and your visitors what the post is about, even if they just see a link to it they will know. Good luck!
Next post will be about changing the headings of your posts to h1, then we´ll cover the plugins you need for fixing the titles of your posts, after that we will go over the sitemaps for your wordpress blog, and so on. Stay tuned and keep up making fantastic websites!