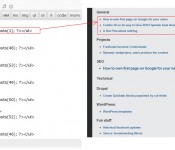 Today I am going to tell you how to make a user- and search engine friendly sitemap for wordpress that updates itself automatically whenever you add a post. First I have to explain a little about sitemaps. There are two types of sitemaps (at least):
Sitemap.xml, this one you can submit to google for fastening your site's indexing. This is ONLY for search engines, not for users. For this one there is a plugin that automatically creates the sitemap and submits it to Google everytime you update or write a post. The plugin is called google xml sitemap and can be downloaded from here. You only need to activate it, then it keeps your sitemap.xml up to date all the time.
The sitemap page, this is just a page on your site where you list every single page that you have, like this one that I have on my site: The sitemap. This is good for users that wants an overview of your site, but also for search engines, because this works like an internal link-directory, this page contains a link to every page you have on your site. So even if a blogpost is two years old, there will be a link to it just one click away from the front page.
Read more